Aloha Spirit Store

VINTAGE HAWAIIAN & CALIFORNIA COLLECTIBLES
Don and Michele Stewart met through their love for Hawaiiana collecting and have always loved the hunt for vintage treasures.
Aloha Spirit, Don and Michele Stewart, have exhibited in:
Aloha Spirit Show-California Heritage Museum-Santa Monica
HGTV Collectible Treasures TV Show-2003
Modern Times Show-Glendale, CA
Deco Show-San Francisco, CA
Wiki Wiki Show-Honolulu, HI
Portland Expo Show-Portland, Or
Hawaii All-Collectors Show-Honolulu, HI
Don Blanding Show-Carmel, CA
Da Cruz Show-Redondo Beach, CA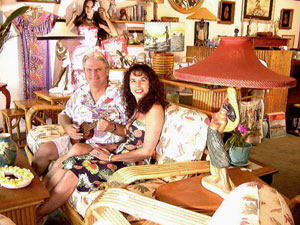 Don and Michele combined their passion for Hawaii and opened a store in San Clemente, CA called Aloha Spirit in 2003 specializing in Hawaiiana.
Aloha Spirit Store in San Clemente was closed in 2007, and Don and Michele have continued their hunt for Hawaiian and California Collectibles. They are always out looking for more hidden treasures.